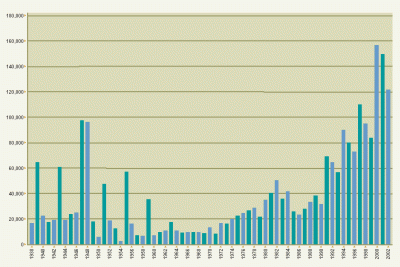 The Cook County Board of Review is the largest real estate assessment appeal board in the United States, playing a vital role in calculating the $13 billion tax obligation for Cook County property owners. In its last session, BOR reviewed and adjudicated nearly half a million assessment appeals. The Board of Review has heard appeals on assessments in Cook County since 1938. Until about twenty years ago, the Board of Review was a two-member Board of Appeals. To assist taxpayers, legislation passed by the 89th Illinois General Assembly in 1996 created the three-member Board of Review that exists today.
In the latter portion of the nineteenth century and early twentieth century, property tax assessment appeals were heard by the Cook County Board. That function was given directly to a three member Board of Review. The Revenue Act of 1939 converted the appeal system to a two member Board of Appeals which remained until 1998, when the current three-member Board of Review established by Public Act 89-671 took effect.
The Board has always been an avenue for taxpayers to contest an assessment made by the County Assessor that they believed incorrect or unjust. The number of appeals have increased dramatically over time. Prior to 2015, the Board processed appeals through a paper-based system. Every paper appeal was manually managed, reviewed, analyzed. Under the old system, the Board had to store more than 10 million pieces of paper.  
During the 2016 assessment year the Board conducted 153 outreach events in communities across the county and assisted thousands of taxpayers in filing appeals. The Board's focus on making the appeals process more accessible to taxpayers in their own communities has allowed it to serve a record number of taxpayers.
In 2016, in part due to the ease of filing under the Board's new digital filing system (DAPS) the Board handled the largest number of appeals filed in its 79-year history.The volume of appeals processed by BOR has been rising dramatically - 350 percent over the last decade.  Even with a record number of appeals, the Board kept its headcount and budget static with DAPS (Digital Appeals Processing System), its award-winning online portal for constituents. The new system is faster, more efficient and allows the Board to be more transparent. The Board would not have completed its review in time for the tax rolls to be certified without the new system in place.  DAPS eliminated over 2 million pieces of paper for the session
Taxpayers can now file appeals, upload evidence, and view results online.  The system's new digital workflow allows staff to view, review and decide appeals electronically. In May 2017 DAPS and the Board of Review earned a National Achievement Award for Information Technology from the National Association of Counties (NACO).